Latest publication available for free download until September 29
AIMAT proceedings – Ischia, 13-15 July 2016
Our research is in the spotlight! Home page of NPJ Computational Materials & MIT news
30th International conference on Surface Modification Technologies – June 30- July 1, 2016, Milan
PhD Workshop with Progetto Rocca – MIT – Thursday, January 8 2015
Seminar on self-cleaning and photocatalytic materials at the Order of Engineers – Wednesday, November 19 2014
Textile Vivant – Triennale di Milano, 11 September – 9 November 2014
EUROCORR – Pisa, 8-12 September 2014: update!
Conference: Pietro Pedeferri e la scuola di corrosione e protezione dei materiali al Politecnico di Milano

Latest publication available for free download until September 29
Our new article, based on optical and structural modifications on titanium dioxide nanopowders with natural aging and their relation to photocatalytic production of nitric acid, is now published on Solar Energy Materials and Solar Cells. Elsevier makes the download available for free until September 29, 2016 – if you're interested in this topic don't miss the chance!
Go to article
Back to top

AIMAT proceedings – Ischia, 13-15 July 2016
The proceedings of the annual conference of AIMAT – Associazione Italiana Ingegneria dei Materiali – are now published online on the Journal of Applied Biomaterials and Functional Materials. Want to know more about the conference? Check it out!
Back to top

Our research is in the spotlight – and open access! First page of NPJ Computational Materials & MIT news
Our new article, A high-throughput technique for determining grain boundary character non-destructively in microstructures with through-thickness grains, in collaboration with MIT, North Carolina State University, Johns Hopkins University of Baltimore and Texas A&M University, published on NPJ Computational Materials, is on the Journal home page! Go to the Journal or read the news on the MIT website.
Want more open access? Check out our latest article on photocatalytic titanium dioxide anodic layers at the Journal website!
Back to top

30th International conference on Surface Modification Technologies – June 30- July 1, 2016, Milan
The 30th annual conference on surface modification technologies is hosted this year by Politecnico di Milano. Titanium is in the spotlight this year, with two sessions on titanium surface treatments – one specific on anodizing – plus other contributions in the Plasma Electrolytic Oxidation (PEO) session. The conference will host a plenary lecture by professor Schmuki from Friedrich-Alexander University – don't miss this chance to learn everything you need on titanium dioxide nanotubes!
Ti&Fun is involved in organizing and chairing several sessions, from titanium to sol-gel, and with two keynotes – one on titanium anodizing and one on surface wettability. Come join us at the 30th SMT! Go to the conference website
back to top

PhD Workshop with Progetto Rocca – MIT – Thursday, January 8 2015
On January 8 the PhD in Materials engineering hosted a workshop on the characterization techniques for materials engineering. The workshop proposed interventions from Dr. Seita, MIT, Prof. Bemporad, University of Roma Tre, Prof. Bernasconi, University of Milan Bicocca, and Dr. Andena, Politecnico di Milano. The participation of Dr. Seita was supported by a seed fund between Ti&Fun and MIT Demkowicz group, related to the correlation of grain boundary microstructure with the corrosion resistance of aluminum.
Read the event program
back to top

Seminar on self-cleaning and photocatalytic materials at the Order of Engineers of Milan – Wednesday, November 19 2014
On November 19, 2014 from 2 pm to 6 pm the Order of Engineers of Milan hosted the seminar on self-cleaning and photocatalytic materials for applications in building and architecture, coordinated by prof. MariaPia Pedeferri. The seminar proposed academic and industrial interventions on the topic. For further information – click here
back to top

Textile Vivant – Triennale Milano, 11 September – 9 November 2014
The exhibition Textile Vivant – Vision, Experience and Research in Textile Design, curated by Maria Grazia Soldati, Giovanni Maria Conti, Barbara Del Curto and Eleonora Fiorani was held at the Triennale di Milano from September 11 to November 9, 2014. The exhibition examined the role of innovation and the uniqueness of the "Made in Italy" label in the world of textiles. More information available at the event website: Textile Vivant
Back to top

EUROCORR – Pisa, 8-12 September 2014
Congrats Ehsan!
During the EUROCORR conference Ehsan Fallahmohammadi, PhD in 2013 with PoliLaPP and now working at Prysmian, received the prize for best young researcher presentation in the Oil and Gas session. The prize is sponsored by ANTIKOR – International Scientific and Educational Corrosion Center, Gubkin Russian State University of Oil and Gas.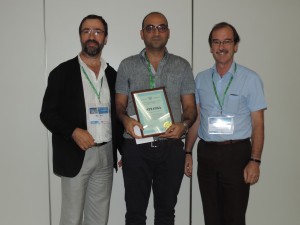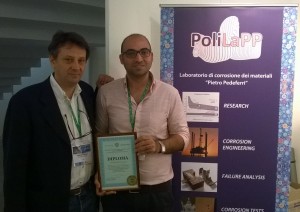 The conference EUROCORR, organized by AIM – Associazione Italiana di Metallurgia and by EFC – European Federation of Corrosion, was held in Pisa from 8 to 12 September.
The main theme of the event was: "Improving materials durability: from cultural heritage to industrial applications".
PoliLaPP participated with a plenary lecture by Luciano Lazzari, conference chairman, as well as with scientific interventions (Tuesday 8: MariaPia Pedeferri, Thursday 11: Fabio Bolzoni, Andrea Brenna, Maria Vittoria Diamanti and Marco Ormellese), and with a stand in the exhibition area.
The conference also hosted an exhibition of Pietro Pedeferri's paintings.
More information available at the conference website: Eurocorr
Back to top

Conference: Pietro Pedeferri e la scuola di corrosione e protezione dei materiali al Politecnico di Milano

The conference, in memory of Pietro Pedeferri and dedicated to the School of corrosion of Politecnico di Milano, was held in occasion of the 150th anniversary of Politecnico.
More information on the conference and on the exhibition organized within are available at the following links:
Programma Convegno Pedeferri
PoliLaPP – Convegno Pedeferri
150 Polimi – Convegno Pedeferri